Next: A Typical Set Construction Up: Design Previous: Documents &nbsp Contents &nbsp Index



indexcomputer-aided design!of the set Producing all of the documents that make up a set design can be very tedious. Fortunately, Computer-Aided Design (CAD) software is available that can remove much of this tedium. CAD software allows easy design, layout, and editing of measured drawings. Advanced CAD packages can even generate 3D models from the data entered by the designer. These models can then be exported to other packages and rendered. Before rendering, material types are assigned to objects, virtual lights are positioned, and virtual camera angles and positions are assigned. Once this is done, the image is rendered, giving a somewhat lifelike pseudo-3D image of the model, as in figure 3.9.

Figure 3.9: A rendering of the set from WPI Masque's 1995 production of King Henry V. This rendering shows the various moving pieces of the set in their open positions.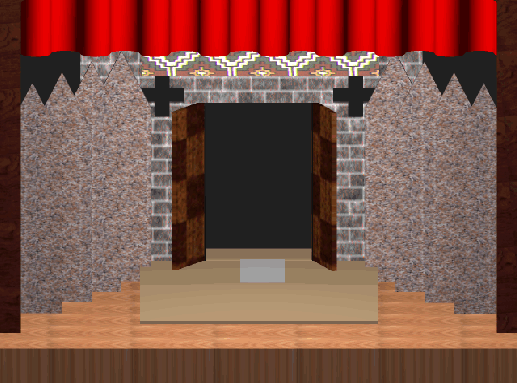 These rendered images are suitable for showing to other members of the design staff. Changes can be discussed, and these changes can be made to the CAD drawings with relative ease. A new image can be rendered, shown to the staff, etc. This process allows the entire production staff to contribute ideas without driving the set designer insane by increasing their work load.
Figure 3.10: Another rendering of the King Henry V set from the 1995 WPI Masque production. This image shows the various moving pieces of the set in their closed positions.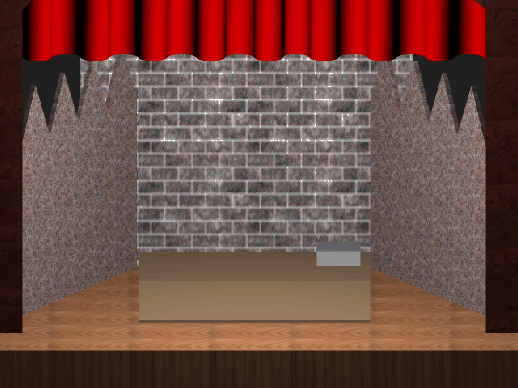 While CAD and rendering packages are excellent tools, they do not replace a well thought-out set design. The set designer still requires a knowledge of the materials and procedures of scenic design, not to mention an artistic vision to work towards.
---




Next: A Typical Set Construction Up: Design Previous: Documents &nbsp Contents &nbsp Index Steve Richardson 2000-07-06

Use of information in this document implies understanding and agreement with the copyright and terms of use. Specifically, no warranty is expressed or implied regarding the accuracy of the information contained within. YOU USE THIS INFORMATION AT YOUR OWN RISK. All trademarks are property of their respective owners. You must obtain permission from the author before using the contents of The Handbook for anything other than private use.
Table of Contents

[Whole book in PDF 5.3MB]