Next: About this document ... Up: iqp Previous: List of Figures &nbsp Contents



additive color mixing

AMX192

audio

amplifiers

principles of operation

ratings

audio designer

audio engineer

audio operator

automation

MIDI

need for

SMsurround

cabling

balanced

shielding

speaker

unbalanced

compact disc

advantages

operating principles

recording

compressors

connectors

multi-core snakes

phone plug

phone plugs

RCA phono

Speak-On

twist-lock

XLR

crossovers

active

adjusting

theory of operation

DAT

advantages

disadvantages

operating principles

sampling

delay

design

input section

output section

overall system

signal processing

speaker placement

digital sampling theory

effects processors

equalizers

feedback elimination with

graphic

parametric

use

flanging

inserts

limiters

line level signals

mic level signals

microphones

carbon

condenser

directionality

dynamic

operating principles

piezoelectric

ribbon

MIDI

mini-disc

advantages

compression scheme

operating principles

mixing boards

aux sends

channels

equalization

faders

mute

panning

purpose

solo

noise gates

pitch shifting

reverb

samplers

advantages

operating principles

sound cards

disadvantages of

operating principles

sound effects

creating

editing

obtaining

speakers

tape

dropouts

flutter

hiss

operating principles

problems with

uses in theatre

wow

audio designer

audio engineer

audio operator

automated instruments

awl

border

brush

paint

cam-lok connectors

cardboard

carpeting

carriages

chain

chain motors

chalk line

construction tool

circuit breakers

clamp

construction tool

color

complementary colors of light

in costumes

in lighting design

primary colors of light

secondary colors of light

colors

primary

secondary

subtractive mixing

complementary colors

computer-aided design

of lighting

concussion pots

construction drawing

costume designer

costumes

animated

borrowing

buying pre-made

color

costume designer

design

Design

accentuating and decentuating

color

design sketch

photographs

practicality

fabric

fitting

measurements

patterns

rehearsal clothing

cotton

cue stack

on lighting boards

cyclorama

cyclorama light

design

designer's perspective sketch

dichroic filters

dimmers

DMX512

draperies

drill

construction tool

dry ice

for fog machines

effects

dry ice fog

fog and dry ice

pyrotechnics

smoke

ellipsoidal reflector spotlights

fabric

fabrics

for costumes

flash pots

flats

floors

foam

fog

dry ice

fresnel spotlights

front elevation drawing

gels

gobos

gridiron

height of

ground plan

hammer

hardboard

heat gun

hooks

hot knife

inseam

leg

legs

for platforms

lekos

level

construction tool

lighting

cabling

cable dressing

socapex

socapex breakout

stage-pin

twist-lock

color

Color Theory

additive color mixing

complementary colors

dichroic filters

gel sheets

gelatine

glass filters

mixing of light

primary colors

secondary colors

control

cyclorama lighting

design

angle of light

color

computer-aided

focus sheet

instrument plot

shop order

simulating exteriors

USITT graphics

dimmers

digital dimmers

front panel

hard patch

modern

old

gobos

instruments

automated

cyclorama lights

ellipsoidals

fresnel spotlights

lekos

parabolic reflector can

scoop

TrackSpots (tm)

lighting boards

advanced

cue stack

history

pre-setting

simple

soft patch

lighting designer

master electrician

patterns

specials

washes

washes (dim)

lighting designer

master electrician

metal

metal bender

metal roll

microphones

MIDI

Digital Samplers

for audio automation

mixing

of light

outseam

paint

Types of Paint

application

paint brush

roller

sponge

sprayer

binder

dye

mixing

types

vehicle

papier-mâché

parabolic reflector can (PAR can)

patterns

plane

construction tool

plastic

platforms

power

cam-lok connectors

circuit breakers

considerations

current

distribution boxes

feeds

MDS connectors

phase

protection

voltage

primary

colors

primary colors

proscenium

pyrotechnics

radio control

use in animated costumes

rakes

rapid links

rendering

rigging

chain

chain motors

Chain Motors

control

use of

counterweight systems

Counterweighted Fly Systems

locking rail

stripping weights

unbalanced lines

weight rail

hooks

lifts

pulley systems

rapid links

rope

set pieces

shackles

slings

for flying truss

turnbuckles

wire rope

Wire Rope

aircraft cable

clips

clips, application of

hoisting cable

swages

thimbles

roller

rope

rugs

sander

saw

scoop

secondary

colors

sectional drawing

servo motors

use in animated costumes

set

construction

safety

construction materials

cardboard

foam

metal

obtaining

papier-mâché

plastic

wood

construction tools

design

draperies

finishing

mixing own paint

paint components

paint, application

painting

painting, base coat

painting, detail

painting, primer

painting, texturing

paints, mixing

paints, oil-based

stain

texture

flats

floor coverings

Floor Coverings

carpeting

fabric

hardboard

rugs

vinyl flooring

misc. structures

Other Structures

construction

modularity of

platforms

rakes

soft goods

stairs

shackles

shop order

sight lines

smoke machines

socapex cable

soft goods

soft patch

specials

lighting

sponge

sprayer

square

construction tool

stage

depth of

floors

stage-pin cabling

stairs

stapler

stringers

symbols

lighting plot

tape

audio

tape measure

TrackSpots (tm)

traveler

treads

turnbuckles

twist-lock cabling

for lighting

valence

vinyl flooring

washes

lighting

weight rail

welder

wire mesh

wire rope

wood
About the Author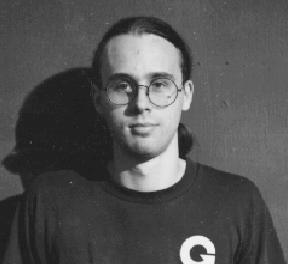 Stephen Richardson is a fourth year interdisciplinary student at Worcester Polytechnic Institute in Worcester, Massachusetts. His major is a strange cross-breed of Electrical Engineering and Computer Science, reflecting his strong interest in both fields.
Steve is an active member in the WPI theatre community, having held many production positions during his undergraduate college career. In addition to direct involvement in theatre productions, he has served two years as technical director for the college's audio and lighting group, and one year as business manager for the college's cast of Alpha Psi Omega (the national theatre honor fraternity).
In addition to being a full-time geek, Steve also enjoys some artistic ventures, such as music and literature. This book is his first foray into writing a substantial work.
Steve may be contacted by email at: prefect@gweep.net.
---



Next: About this document ... Up: iqp Previous: List of Figures &nbsp Contents Steve Richardson 2000-07-06

Use of information in this document implies understanding and agreement with the copyright and terms of use. Specifically, no warranty is expressed or implied regarding the accuracy of the information contained within. YOU USE THIS INFORMATION AT YOUR OWN RISK. All trademarks are property of their respective owners. You must obtain permission from the author before using the contents of The Handbook for anything other than private use.
Table of Contents

[Whole book in PDF 5.3MB]