S-Bleepo
SBleep-0, or Super Bleep-o is the software version of a groove box (synthesizer w/ sequencer) that I designed on paper sometime during college. The basic idea is to have two short melodies playing at the same time...and then smash their waveforms together like particle accelerators! There are two melody generators, each with their own sequencer and oscillator. Each oscillator has a small number of waveforms it can create. And what's that in the middle?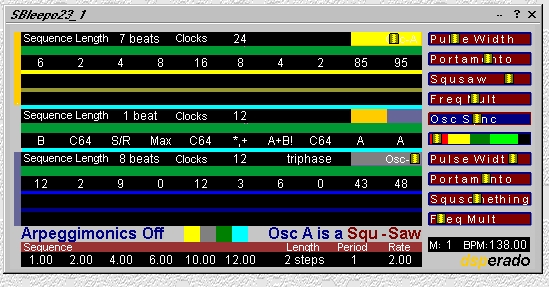 The Non-Linear Waveform Combiner
This is the atom smasher that gives "Sblee" all its unique power. You see, adding together two melodies has been done- for several hundred years. Bu this millenium? It's all about non-linear waveform mixing! When you multiply, for example, two melodies together, you are instantly transported into another space. The theories which generated the scales that created the melodies are instantly lost in space-wind. Take a listen to some of the examples. You'll hear various other non-linear waveform combinations, like XOR, A+B with clipping, A being used to shift B to the left or right, and others too complex to explain!
Audio