recordings
Sister in the Corner (1998)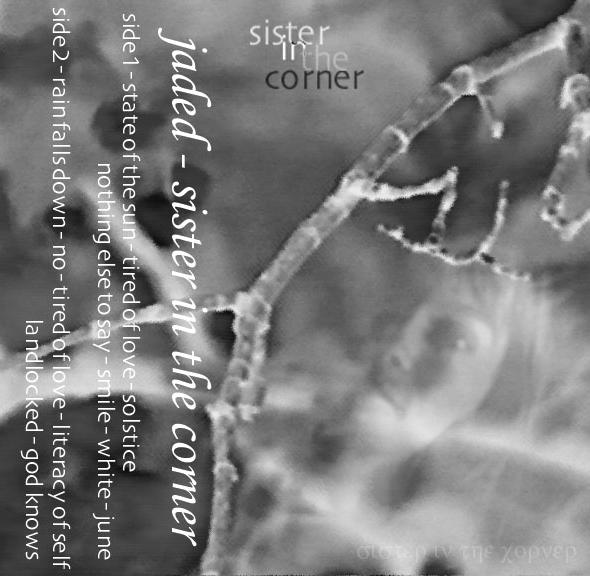 Side 1 (remix): state of the sun, tired of love, solstice, nothing else to say, smile, white, june
Side 2 (live): rain falls down, no, tired of love, literacy of self, landlocked, god knows
Side one is a compilation of the old times. The analog times. The college years. The innocence burned and faded away. Remastered, resurrected, and screaming like valkyries across the Baystate highways in their shiny metal boxes... jaded never dies. We've got a sister in the corner and a fistful of working class angst.
Side two was recorded at Eleni's Midnite Cafe (RIP) springtime, sometime during 1996, opening for Jon Svetkey. We had deluded ourselves into the notion that a new name would be just the thing. Jaded was temporarily shelved for the "Alethea Roye" moniker. That didn't last long.
Breathe (1996)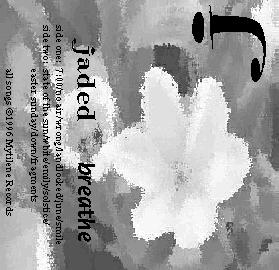 Side 1: 7:00, no air, wrong, landlocked, june, smile
Side 2: state of the sun, white, emily, solstice, easter sunday, down, fragments
More than a year and a half after their last release, the Worcester, MA area folk duo jaded are back with a new album, Breathe. Scheduled for an April 5th release, Breathe is a compilation of new and old material and includes re-recorded versions of three songs and nine new compositions.
The new compositions represent a change in direction for the duo. While their past releases were on the gloomier side of self-reflection, Breathe lightens the mood. In addition to a new pop feel, the instrumental capabilities of both Aron and Jason have vastly improved. Not only are their performances on this album a higher quality, but as a unit, they are much tighter. They also made the decision to forego much of the instrumental experimentation that made evil a musical conglomeration of many different, sometimes unfitting sounds. The result is Breathe: the latest release from the duo jaded.
All songs on evil were written by jaded.
evil (1995)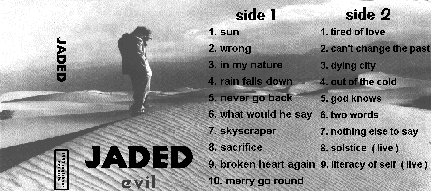 Side 1: sun, wrong, in my nature, rain falls down, never go back, what would he say, skyscraper, sacrifice, broken heart again, merry-go-round
Side 2: tired of love, can't change the past, dying city, out of the cold, god knows, two words, nothing else to say, solstice (live), literacy of self (live)
evil is jaded's second full length album, and includes seventeen new originals and live versions of two tracks from what happens behind closed doors (WHBCD). Very different from the simplicity of WHBCD, evil broadens the sound of the band be including strings, percussion, and distorted guitar.
All songs on evil were written by jaded.
The Bitter Like Coffee Sessions (1993)
Side 2: (what's the track listing?)
The Bitter Like Coffee Sessions were distributed as the B-side to What Happens Behind Closed Doors. All songs were written by jaded.
What Happens Behind Closed Doors (1993)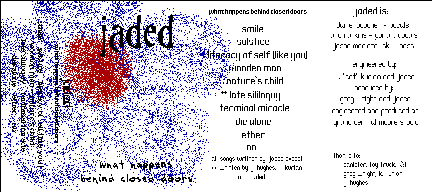 Side 1: smile, solstice, literacy of self (like you), wooden man, nature's child, late sililoquy, terminal miracle, die alone, ether, no
What Happens Behind Closed Doors is the first full length album from jaded, and includes ten original songs. Members during this time were Daniel Boucher, Aron Atkins, and Jason Macierowski.
All songs on What Happens Behind Closed Doors were written by jaded except late sililoquy written by Aron Atkins, Kerry Kurian and Jason Hughes.