Puddle's Home Page at GIMA
Last modified on April 23, 1996.
The Official Puddle Home Page is here.
---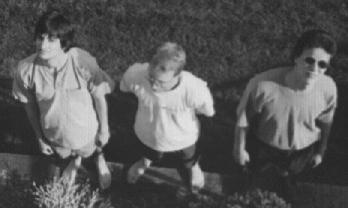 Band Members:
Dave Parent -- Guitar & Vocals
Greg Olson -- Bass Guitar & Vocals
Tom Woundy -- Percussion

Ex-Band Members:
Jon Plett -- Bass Guitar (7/92 - 3/93)
Band Correspondence:
PUDDLE
P.O. Box 275
West Boylston, MA 01583
---
PUDDLE is reshaping the kind of punk music that began with THE RAMONES and was expanded by HUSKER DU, into their own brand of high volume guitar, pulverizing drums, melodic bass playing and straight from life song writing that they refer to as melodic therapy.
PUDDLE uses the freedom of the punk sensibility to artfully sculpt guitar noise with the honesty of folk musicians. They pour the frustrations, stresses and disappointments that we all can relate to, into insightful, intelligent lyrics that can only be joined with music that is loud and straight to the point.
PUDDLE was formed in July 1992. A change in bass duties was made in April 1993 when Greg was welcomed aboard. All three members of PUDDLE have been playing music since childhood though, oddly enough, each had chosen the drums as his main instrument.
Greg toured New England as drummer for the bands PATIENCE and ONE SMALL DOG. Tom also toured the northeast with Connecticut's THE WAYS. Dave is a self-taught musician who came of age in bands while in school. He amassed a collection of songs while in college and set out to create PUDDLE.
PUDDLE appeals to those who are into music of aggression as well as those who demand a good song. Unlike angry punk and hard-core, PUDDLE is nerd-core; average, uptight individuals who also have a disarming sense of humor.
The band's recorded material includes two full length albums and two 7inch singles. All products are on the collective label, Apostrophe Records of Southbridge. MA. , which is run by Roger Lavallee of The Curtain Society.
---
General Information:
---

This file is part of The GweepNet Indie Music Archive. GIMA is personally maintained by its caretakers, not by the featured bands. Any lyrics, sound clips, images or other materials in the archive have been included with the permission of the appropriate bands. Any reproductions made without the written consent of the authors is strictly prohibited. If you have any comments, suggestions, or ideas for additions to these pages, drop one of us (or all of us -- email is good) a note.